iPhone 6 vs iPhone 6S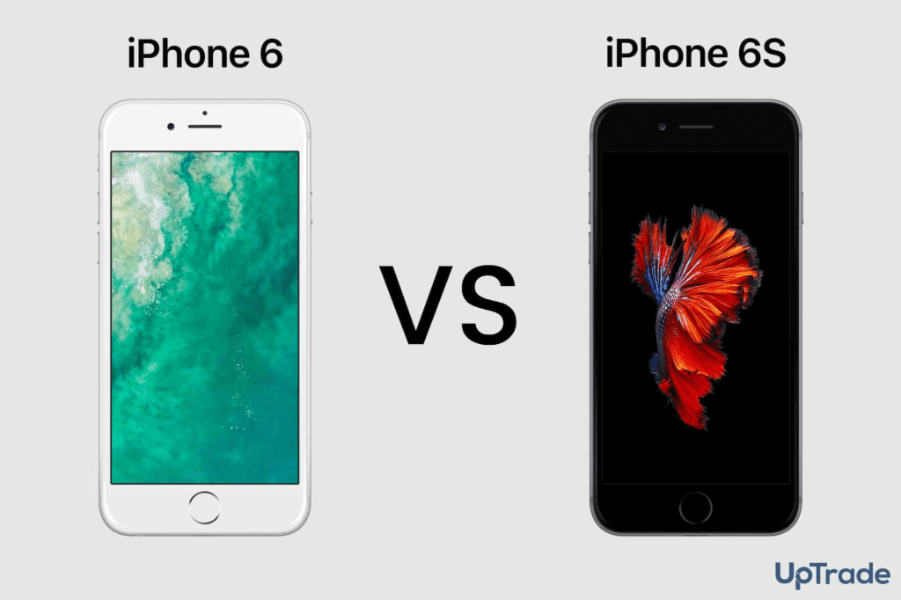 It might not seem like there is a whole lot to talk about when comparing the iPhone 6 and iPhone 6S. Some say that these phones are too outdated to even be considered. Each one respectively has their own pros and cons. The iPhone 6 is a great device for getting your foot in the door for using smartphones. However, the iPhone 6S is a fantastic cheap upgrade when comparing raw power and cutting edge features to previous iPhones.
Let's take a look at what Apple has in store for us when comparing these two phones together.
iPhone 6 advantages over the iPhone 6S

iPhone 6S advantages over the iPhone 6

Lighter

4.55 OZ vs 5.04 OZ

Better portability and less burden in pocket

Newer

5 YEARS OLD vs 6 YEARS OLD

More up to date hardware and software

Cheaper Option

~$78 vs ~$88

The iPhone 6 is a bit cheaper than the 6S by around $10 in the used market

Faster CPU

A9 CHIP vs A8 CHIP

Offers extra raw power for applications and everyday tasks

Battery Lasts Longer

1810 mAh vs 1715 mAh

Lasts a bit longer than the iPhone 6S battery

Upgraded Back Camera

12 MP Wide vs 8 MP Wide

Better quality rear camera pictures and recordings

Upgraded Front Camera

5 MP vs 1.2 MP

Better quality front camera pictures and recordings

Higher Quality Video Recording

4K vs 1080p

Higher resolution offers more clarity and precise recording

3D Touch

YES vs NO

iPhone 6S offers 3D touch for applications

Retina Flash

YES vs NO

iPhone 6S offers retina flash which turns the display into a camera flash

Improved Cell Service

ADVANCED LTE vs LTE

improved LTE service and increase in real-world cellular speed

Updated iOS

iOS 9 vs iOS 7

6S model was released with Apple's iOS 9 software
iPhone 6: The Kickstarter
Apple's iPhone 6 is one of the most distinguished mobile devices ever created in recent decades. It is still highly popular with consumers and many people still prefer this model over its latest counterparts. Due to iPhone 6's reliability, power, and portability, it allows for more power to fit in your pocket. The dimension measurements grew a bit from the previous iPhone 5S model, increasing to 5.44" x 2.64" x 0.27, which was the largest phone Apple had ever created upon when it released. The device sports a 4.7" inch (diagonal) widescreen LCD Multi‑Touch display with IPS technology, allowing for better resolution and a crisper picture than previous competitors. Additionally, the fan-favorite Touch ID technology was carried over from the previous iPhone 5S model.
The iPhone 6 model is made from an aluminum casing foundation. Users have reported that the aluminum casing can bend which causes excessive wear on the screen and components. However, these reports stem from users who sit with the phone in their back pockets. Apple was not too flashy with their color variants and stuck with the Space Grey, Silver, and Gold trio. The iPhone 6 was offered with three different storage capacity sizes; 16GB, 32GB and 64GB.
The iPhone 6 model was equipped with a Single 8MP Wide camera on the back and a 1.2MP camera on the front. The back camera allowed for a digital zoom up to 5x with a True Tone flash to increase the camera's lighting capabilities. The video recording option was upped a bit to 1080p HD video recording at 30 fps or 60 fps and 3x digital zoom. A slow-mo feature was also added to the video recording feature of the camera. The front camera recorded at 720p HD video recording at 30 fps. HDR photos are offered with every picture taken on the iPhone 6.
The Apple iPhone 6 is powered by an A8 bionic chip CPU and 1810 mAh rechargeable lithium-ion battery. The A8 chip is more than capable of making day-to-day applications a breeze. The battery is able to withstand up to 11 hours of video playback and 50 hours of audio playback.
iPhone 6S: Old But Rose Gold
The iPhone 6S received many new components and features that set it apart from many of its competitors. With an improved CPU and front and back camera, consumers were hungry to get their hands on one. The size of the 6S is similar compared to the dimensions of the previous 6 model, but the 6S tacks on about 0.49 more ounces than the 6, so a bit heavier. The 6S is still rocking the same 4.7" inch (diagonal) widescreen LCD Multi‑Touch display with IPS technology, but with the very new 3D Touch feature added to the device. The 3D Touch technology uses sensors integrated into the display to determine the amount of pressure and respond accordingly. This feature allows users to take advantage of shortcuts offered by apps.
Apple iPhone 6S utilizes the same notorious aluminum casing foundation as the previous 6 models did. Apple added a new color variant, Rose Gold, to the already existing Space Grey, Silver, and Gold color schemes. However, Apple did remove the 16GB and 64GB storage options in replacement of just two choices. The iPhone 6S is offered at 32GB and the expanded 128GB capacity storage option.
The camera arsenal on the 6S model received a huge overhaul compared to the iPhone 6. The 6S comes with a newly upgraded 5 MP front and Single 12MP Wide rear camera. The front camera received a Retina Flash feature which basically turns the display into a big flash to enhance any picture's lighting. The newly introduced cameras brought bigger and better video recording. The iPhone 6S can record at 4K at 30 fps and the Slo-mo video support is offered 1080p at 120 fps and 720p at 240 fps.
The iPhone 6S is packed with a more powerful A9 bionic chip compared to the iPhone 6's A8 chip. This means more overall power the device can take advantage of during every single use. The battery output on the 6S is surprisingly a bit lower than the 6 models and comes in at 1715 mAh. There have been some reports of the 6S model's battery dying quicker than 6 during stress testing.
Conclusion
Price is an important topic to consider before deciding on which iPhone you would like to get your hands on. The iPhone 6 and iPhone 6S were priced at $649 USD during the release of both of the smartphones. However, they've seen numerous price reductions in the used marketplace thanks to the continuous update of iPhones. At UpTrade, a used iPhone 6 in excellent condition is priced at $78 and iPhone 6S at $88.