iPhone 8 vs XR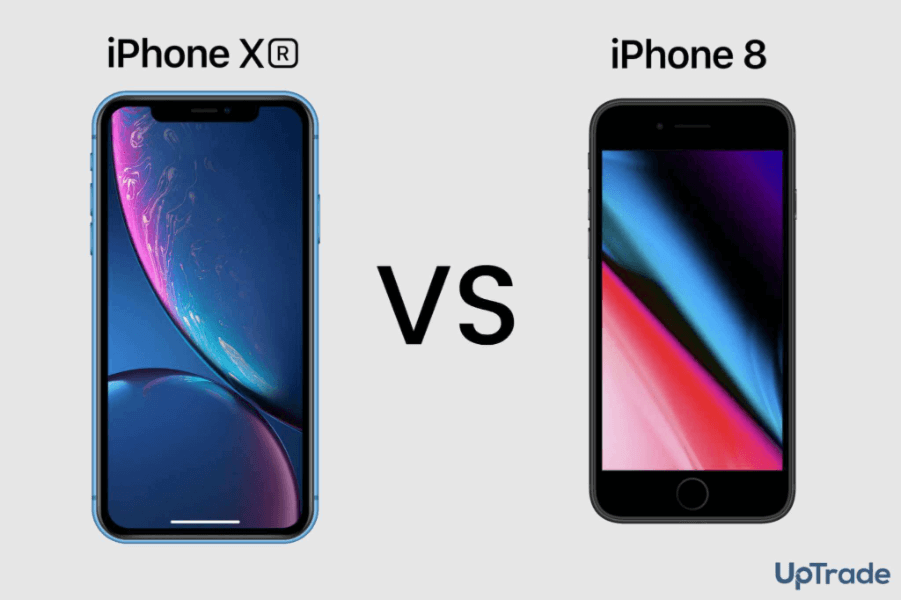 Apple's iPhone X was the first in Apple's new series of iPhones attempting to get as close as possible to a bezel-less, all display phone. It completely changed the design of the classic iPhone that had been in use since the very first model released in 2007. Released alongside the X in 2017 was the iPhone 8, a promise of stability (and affordability) for people who were satisfied with the original design, wanting a functional and familiar experience that did not require additional learning.
Following the new direction for iPhones spearheaded by the X, the iPhone XR was the response to criticism of the $1000 price tag, featuring improved internal specs with some compromises for affordability in the exterior build. Analogous to the iPhone 8's relationship to the iPhone X, the XR was released alongside the XS as the budget friendly option.
These two phones were both made for the same demographic, a person who is smart with their money and seeks value. So when considering buying a used XR vs a used iPhone 8, which should the budget conscious shopper choose? This article will review the differences between the iPhone XR and iPhone 8, interpret those differences, and end with which phone is best suited to which kind of person, along with a personal recommendation.
Main Body
The physical differences are apparent, but making an informed decision requires some attention to detail. This table covers the differences, both obvious and subtle, between the iPhone XR and iPhone 8, leaving no stone unturned, so you may make an informed decision.
Release date

Oct-18

Sep-17

Screen size

6.1"

4.7"

Height & width

5.9" x 3"

5.4" x 2.6"

depth

.33"

.29"

weight

6.84 oz

5.22 oz

CPU

A12 Bionic Chip with 2nd generation Neural Engine

A11 Bionic Chip with 1st Generation Neural Engine

Login Security

Face ID

Touch ID

Display type

LCD with Liquid Retina HD display

LCD Retina HD Display

Pixel density

1792 x 828 pixel resolution at 326ppi

1334 x 750 pixel resolution at 326ppi

Contrast & color

1400:1 contrast ratio

1400:1 contrast ratio

Front-facing camera

5x zoom & 7MP

5x zoom & 7MP

Front-facing video

1080p HD, 30fps or 60fps

1080p HD video recording at 30 fps or 60 fps

Back-facing camera

Single 12MP Wide

Single 12MP Wide

Back-facing video

1080p HD video, 30 or 60 fps, extended dynamic range for video up to 30 fps; 3x digital zoom

1080p HD video recording at 30 or 60 fps; 2x optical zoom

Portrait lighting (front & back)

Natural, studio, contour

N/A

Photo HDR (front & back)

Smart HDR

Auto HDR

Audio playback

Wider stereo

Stereo

Video playback

Supports Dolby Vision & HDR10 content

Supports Dolby Vision and HDR10 content

Battery power

2942mAh

1821mAh

Video playback (battery)

Up to 16 hrs

Up to 13 hrs

Audio playback

(battery)

Up to 65 hrs

Up to 40 hours

Internal storage

64GB, 128GB, or 256GB

64GB, 128, or 256GB

Touch

Haptic Touch

3D Touch

SIM

Dual SIM (nano SIM & eSIM)

Single Nano Sim

Operating system at release

iOS 12

iOS 11

Body

Glass & aluminum

Glass & aluminum

finish

Red, yellow, white, coral, black, blue

Gold, Silver, Space Gray, Product Red

Price, at time of release

$749+

$699+

Current price, new

$599*

$349*

Current price, pre-owned

$479-499*, $387**

$269-299*, $229**
*Best Buy
**UpTrade
Upon reviewing this data, there are many similarities between the iPhone XR and the iPhone 8 that will likely ensure a similar experience with both phones. However, the two phones also have some key differences. Below is a chart of meaningful differences between the two.
| | | |
| --- | --- | --- |
| | iPhone XR | iPhone 8 |
| Screen size | 6.1" | 4.7" |
| Login Security | Face ID | Touch ID |
| Height & width | 5.9" x 3" | 5.4" x 2.6" |
| CPU | A12 Bionic Chip with 2nd generation Neural Engine | A11 Bionic Chip with 1st Generation Neural Engine |
| Battery power | 2942mAh | 1821mAh |
| Operating system at release | iOS 12 | iOS 11 |
| Current price, pre-owned | $387** | $229** |
Screen
First and foremost, the biggest difference between these two devices is that the iPhone XR screen is significantly bigger than the 8's, and even the iPhone X and 8 Plus'. With this increased size comes smaller and more dense pixels to maintain the feature of not seeing pixels from normal viewing angles, as defined by Apple's standards for Retina displays.
Therefore, the XR's display quality is equivalent to the 8's, while the size is roughly 1.5 times as big across.
Body Size
With this lead, the XR continues to shine when the overall footprint of the XR's total body size is only tenths of inches bigger than the body of the iPhone 8.
We can conclude that with an increased screen size, the feel in the pocket will be similar, but keep in mind, it will still feel like a bigger phone when using it in the hand due to the screen size.
Login Security
One unique win for the iPhone 8 is the inclusion of the home button and Touch ID. Touch ID has been and still is more reliable than Face ID with a higher success rate. This also means a reliable hardware button to go to the home screen instead of relying on a swipe up gesture.
Processor
The next significant difference is the processor. The 8 has the chip from the iPhone X released in 2017, and the XR has the chip inside the XS released in 2018.
What does this mean for daily use?
Perceived speeds using the phone will be similar, apps will open nice and snappy and web pages will load in comparatively similar amounts of time. Both processors were the best in class cutting edge technology in their time.
The biggest difference between them is that Apple focused on power efficiency improvements for the A12 chip. Combined with the increased battery size, the XR has much better screen time and time capable spent between charges.
Future Updates
Lastly, given that the release date and processor are both one generation ahead of the iPhone 8 and XR, it is very likely that the XR will be supported with iOS one full version ahead of the iPhone 8. Meaning that the last update for the iPhone 8 will be the second to last for the XR.
While thinking about the future, the XR wins in terms of software support and compatibility.
Conclusion
With these strong points for the XR, there are only three main reasons why I can imagine you may want the 8 instead.
Touch ID is easier to use and you prefer a home button
The smaller screen is preferable for daily use because of increased one handed usability
A used iPhone 8 can be roughly $150 off of a used iPhone XR.
Personal Recommendation
Now that we've uncovered the most important differences, I would personally prefer to buy the used XR for the screen size, battery performance, and continued updates, but I completely recognize the need for a smaller and more user friendly iPhone as well.