iPhone XR vs Samsung Galaxy S9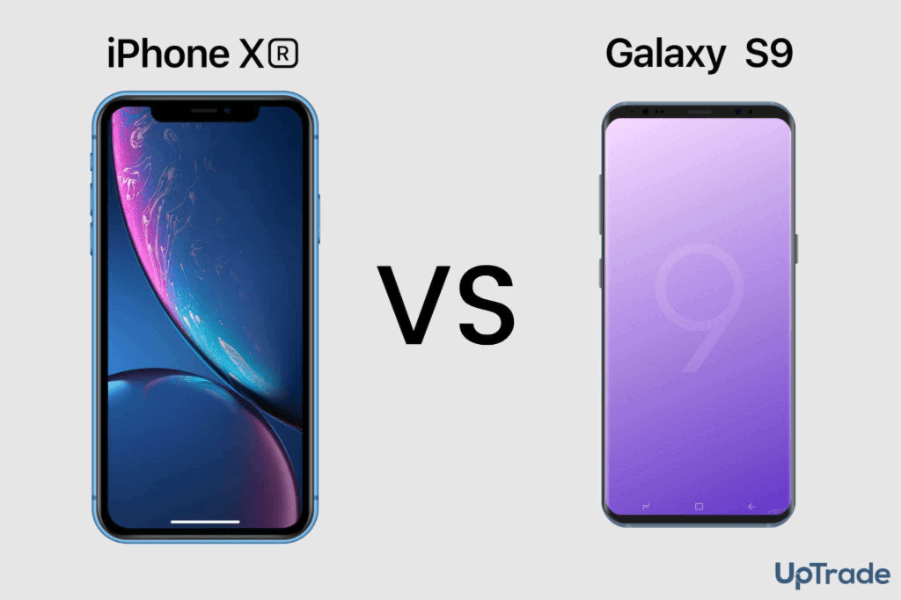 Which is better iPhone XR or Samsung Galaxy S9?
That's a common question among phone users with a refined taste. Both companies know how to thrill customers with products that take your mobile phone experience to levels that a lot of other players in the industry find hard to achieve. The Samsung Galaxy S9 is built for Android lovers who are ready to explore more advanced features such as a superb camera, fast processing speed, better battery life, and a slicker display. The iPhone XR came into the market with an improved iOS 12 operating system, though bearing some super features such as the notch display and TrueDepth sensor array, earlier introduced in the iPhone X. However, it still comes with some cool new features of its own. But more importantly, it offers iPhone lovers, a less expensive experience with some of Apple's latest technologies.
Overall, the difference between the two phones ranges from mostly little in many areas to significant with regards to a few features. Also, for the features installed in them, they offer great value for money. This review highlights all the salient points that will help you make a better purchasing decision between the two phones.
Comparison
iPhone XR
Samsung S9

Release date

October 2018

March 2018

Screen size

6.1"

5.8"

Height & width

5.9" x 3"

5.81" x 2.70"

Depth

.33"

.33"

Weight

6.84 oz

5.75 oz

CPU

A12 Bionic Chip with 2nd generation Neural Engine

Samsung Exynos 9810:Octa-core (4 x 2.9GHz & 4 x 1.9GHz)

RAM

3GB

5GB

Display type

LCD with Liquid Retina HD display

Quad HD+ AMOLED display

Pixel density

1792 x 828 pixel resolution at 326ppi

1440 x 2960 pixel resolution at 570ppi

Contrast & color

1400:1 contrast ratio, no HDR display

2,000,000:1, HDR certified

Front-facing camera

5x zoom & 7MP

10MP

Front-facing video

192 x1080p HD, 60fps

38402160p HD, 60fps

1920×1080 HD, 60fps

1280×720 HD, 30fps

Front-facing camera flash

Retina flash

LED flash

Back-facing camera

Singe 12MP Wide

Singe 12MP

Back-facing video

1080p HD video, 30 or 60 fps, extended dynamic range for video up to 30 fps; 3x digital zoom

1080p HD video recording at 30fps or 60fps; digital zoom up to 8x

Photo HDR (front & back)

Smart HDR

Full HD+ and Quad HD+

Audio playback

Wider stereo

Stereo speaker, Surround sound with Dolby Atmos technology

Number of microphones

3

2

Video playback

Supports Dolby Vision & HDR10 content

Dolby Vision with HDR10+

Battery power

2942mAh

300mAh

Video playback (battery)

Up to 16 hrs

Up to 18hrs

Internal storage

64GB, 128GB, or 256GB

256GB, expandable up to 512GB

Touch

Haptic Touch

Capacitive touchscreen

SIM

Dual SIM (nano SIM & eSIM)

Dual Nano-SIM (hybrid)

Operating system at release

iOS 12

Android 8.0 Oreo

Body

Glass & aluminum

Gorilla glass & Aluminum

Brightness

625 nits max

603 nits

Finish

Red, Yellow, White, Coral, Black, Blue

CoralBlue, Polaris blue, lilac purple, titanium gray, midnight black, sunrise gold, and burgundy red

Splash and dust resistant

Rated IP67

Rated IP68

Price, at time of release

$749+

$719.99

Current price, new

$599*

$449.99*

Current price, pre-owned

$479-499*, $387**

$449.99*
*Price on Best Buy
**Price on UpTrade
Similarities
| | |
| --- | --- |
| Security | Face ID Detection |
| Water resistance | Resistant up to a 1m (XR) & 1.5m (S9) |
| Frequency Scaling | Has dynamic frequency scaling |
| Main camera pixel size | 1.4µm |
| Main Cameras | 12MP rear camera |
| Audio | Stereo speaker |
| Video Recording (Main Camera) | 2160 x 60fps |
| Power Saving | Ultra power-saving mode |
| Video | Built-in optical image stabilization |
| Battery | Built-in, rechargeable Lithium-ion |
| Image resolution | 4000 x 3000 pixels |
| Charging | Via USB, supports wireless charging & fast-charge capable |
| Sensors | Accelerometer, Ambient Light Sensor, Proximity Sensor, Three-axis Gyro Sensor, Digital Compass, Barometer, Gyro Sensor |
| Data | GSM/EDGE, UMTS/HSPA+ |
| GPS | With A-GPS, GLONASS |
| Network | LTE Advanced |
| WiFi | Wi-Fi support enabled (Wi-Fi 802.11, a/ ac/ b/ g/ n/ n 5GHz, MIMO) |
| Bluetooth | Bluetooth support enabled v.5.0 |
Overview
The iPhone XR entered the market in October 2018 and is the successor of iPhone X – the phone which ushered-in the Apple X series – meaning that it bears with it some of the features introduced in the X version. For example, iPhone XR features the Apple A12 Bionic processor, has no fingerprint sensor, and features the same resolution of 2436 x 1125. But it does present great new features: an improved operating system, a bigger display (6.1″ notch display), and higher battery capacity. What's more? For a release price of $749, it's even cheaper than iPhone X.
The Samsung Galaxy S9 is another impressive display of high-end tech by Samsung. The Samsung Galaxy S9 was released in March 2018 at an initial price of $729.99. Although it has a lesser size of 5.8″, the phone comes with a super Quad HD+ Super AMOLED display and a higher pixel density than the XR (2960×1440 at 570 ppi). Coupled with its lightweight, it presents users a chance to handle a superphone easily with one hand. Unlike its flagship partner, the Samsung Galaxy S9+, the S9 has a single 12MP rear camera. This means that both iPhone XR and Samsung S9 have the same 2MP back camera. But the S9's front camera has 14.29% more pixels than that of the XR.
Again, the S9 has 1.97% more battery power than the XR, whereas the Apple XR has 192GB more internal storage and features three subpixels per pixels in its LCD display.
You'll find several interesting disparities as you compare both phones across each feature – and even some similarities, but the choice of which to go for will ultimately be determined by the buyer's need, budget or taste.
Body
iPhone XR weighs 31g more than Samsung S9 and also has a slightly higher dimension too. Samsung S9 weighs 163g, which makes it a better option for folks who prefer a lightweight device. In thickness, the XR and S9 are 8.3 mm and 8.5 mm respectively. While the S9 scores better in weight, the XR tries to match up with the new notch display and its compact body, which is slightly less thick than that of Samsung S9. And that's one way Apple tries to prove that slimmer isn't always better. S9, though maintains the distinctive curvy-edge design of Samsung phones.
Both phones are dust-proof, splash, and water-resistant, plus they're are made of gorilla glass-protected body. Unlike the iPhone XR, which is IP67-certified, the Samsung S9 is IP68-certified, which means it has 0.5 more meters of resistance in water than its Apple counterpart, the XR. The iPhone XR lacks the beloved headphone jack, but Samsung deemed it better to retain it in the Galaxy S9. If you pick up both phones, you may not notice much difference aside from the colors and body shape, until you take a closer look. One more variation you'll see is the absence of a fingerprint scanner on the iPhone XR. It's disappointing, but Apple makes up for this with an improved Face ID security feature. Overall, Samsung presented the S9 as a significant improvement on their Samsung Galaxy S8 with a cascade of brighter features in subsequent iterations. Apple, on the other hand, didn't change much in the XR, compared to its predecessor, the iPhone X.
In terms of color, iPhone XR comes in 6 different colors: white, black, blue, coral, yellow, and red, which is a significant improvement compared to much older iPhones. Samsung S9 doesn't disappoint either; it comes in 7 different appealing colors: coral blue Polaris blue, lilac purple, titanium gray, midnight black, sunrise gold, and burgundy red. So, if for one reason or another, you opt for any of these smartphones, you can be sure of a rich array of nice colors to pick from.
Display
Here, we see a striking difference between the Samsung S9 and iPhone XR. The iPhone XR has a 6.1″ display panel with an HD+ screen, and a resolution of 828 x 1792 pixels. Unlike its other X colleagues, it has an LCD panel with a Liquid Retina Display, meaning that it features a less powerful screen(especially in contrast) than iPhones X, XS, and X Max. However, the screen is High Dynamic Range Plus (HDR+), and so, users are still assured of an amazing experience with the iPhone XR screen despite the absence of OLED technology in the iPhone XR. Of course, if Apple was going to drop the price of a product with amazing features, it has to be compensated for by compromising a little on some features.
The Samsung S9 shines even brighter with its powerful AMOLED tech in place of an IPS LCD display, as found on the iPhone XR. It has a Quad HD+ Super AMOLED display, with a resolution of 2960 x 1440 pixels, which is the same as what we see in its predecessor, the Galaxy S8. The default display resolution is actually Full HD+, but this can be changed to Quad HD+ in settings, depending on preference. Although, compared to the iPhone X, it has a slightly lesser frame of 5.8″, the Samsung S9 still surpasses by 1.75 times in pixel density.
In terms of contrast ratio, XR is 1400:1 contrast, while the S9 has a contrast ratio of 2,000,000:1. But worthy of note is the sterling pixel sophistication of the iPhone XR: it features three subpixels per pixels. This means that regardless of the less superior LCD display, images are crisp clear. However, the overall image property of an S9 shot beats that of the XR. In addition, the S9's display is a near bezel-less, full-frontal, edge-to-edge screen.
iPhone XR, on the other hand, retains a near-perfect rectangular shape.
Camera
Both phones have a single rear camera, each. More interestingly, you'll find that each of these cameras is only 12MP. Both also shoot 4K and slow-motion video in different configurations. Pixel size and video recording capacity are the same as well; 1.4µm and 2160 x 60fps, respectively. In short, the performance of both cameras is very much similar. Picking any of them based on camera capacity is very much dependent on the buyer's preferences. However, there's a noticeable difference in the front camera feature set, but this will be elaborated on in subsequent paragraphs.
Hardware
We see that Samsung's latest dual-camera arrangement is present in the Samsung Galaxy S9+ but absent in the S9, even though they were both released at the same time. Apple too showed the same bias in the iPhone XR – it has no dual camera setup. S9 does not have a secondary rear sensor, which means it lacks the Live Focus mode. However, Apple still retained the portrait mode in the iPhone XR with advanced bokeh, a ƒ/1.8 aperture, and a LED True Tone. Apple's portrait mode is the equivalent of the Live Focus mode in Samsung phones. There are three options here: Natural, Studio, and Contour. The S9 though uses in-built software to optimize image quality. There's no optical zoom lens in both phones but Samsung S9 has digital zoom up to 8x with selective focus for background blur effect. Galaxy S9'S rest camera aperture varies between f/1.5 to f/2.4, so it outperforms that of iPhone X such has an aperture of f/1.8.
Software
Both phones feature a built-in optical image stabilization (OIS) feature. The front-facing camera of the iPhone XR is 7MP with that if the Samsung S9 is 8MP. But the XR turns things around by incorporating the Depth Control feature, which provides better facial recognition. Even though its selfie camera is a little lower in strength, the iPhone XR's selfie camera outperforms the Samsung S9 with the depth control feature, especially in low-lighting situations. In fact, Apple added a little fun feature called "Animoji and Memoji", to the front camera. It allows users to create animated, 3D emoji characters of themselves, which are controlled by the user's face.
Being that both phones are miserly in terms of the number of cameras, there isn't much difference regardless of which one you pick. But, they promise impressive images, still.
Performance
These two phones offer the best in the industry when it comes to performance. However, the internal feature set that enables the cutting-edge delivery of each phone is different in some ways. In terms of battery capacity, iPhone XR is powered by a 2942mAh Lithium-ion battery, whereas the Samsung S9'S battery is 3000mAh. iPhone XR functions on a higher operating system (iOS 12) than the iPhone X. Samsung Galaxy S9, on the other hand, comes with Android 8.0 Oreo.
CPU speed is 2 x 2.5GHz & 4 x 1.6GHz on iPhone XR and 4 x 2.9GHz & 4 x 1.9GHz on Samsung S9. The processors are the Apple A12 Bionic chip and Samsung Exynos 9810, respectively. Despite having an improved and more powerful processor, the Samsung S9 is 1.68 times faster than the XR. Apple allowed only 3GB RAM in the iPhone XR, thereby giving Samsung S9 a superior stand by 1GB more RAM.
Both phones have wireless and fast-charging features but of course, Samsung S9 charges faster and lasts longer than the XR. The XR offers up to 16 hours of video or 65 hours of audio, whereas, the S9 goes up to 94 hours and 18 hours for audio and video playback respectively. They have a similar storage capacity of up to a maximum of 256GB, but the S9 has room for expansion with external memory up to 512GB. For users who like to have two SIMs in one phone, there's still a good chance to achieve that with either phone: the iPhone XR has one nano nano-SIMone eSIM slots, while the Samsung Galaxy S9 has a single SIM model with one Nano-SIM and one MicroSD or a dual/Hybrid SIM model with 2 Nano SIMs.
Once more, the Samsung AMOLED display offers a superior viewing experience than the LCD display of the iPhone XR. Generally, the S9 ranks higher in processor speed, battery, and storage capacity, but the iPhone XR has a stronger processor. In terms of connectivity, XR has a pair of EarPods with lightning connectors, whereas S10 has a traditional audio Jack, but it's still compatible with third-party wireless EarPods.
Conclusion
Both the iPhone XR and the Samsung Galaxy S9 are wonderful phones with great specs. If you're particular about the details, then, you'll need to take a closer look at the details. Ultimately, your choice will depend on what you want out of a phone and, of course, the size of your purse.