iPhone XR vs iPhone 8
Oct 25, 2022
Esteban Facundo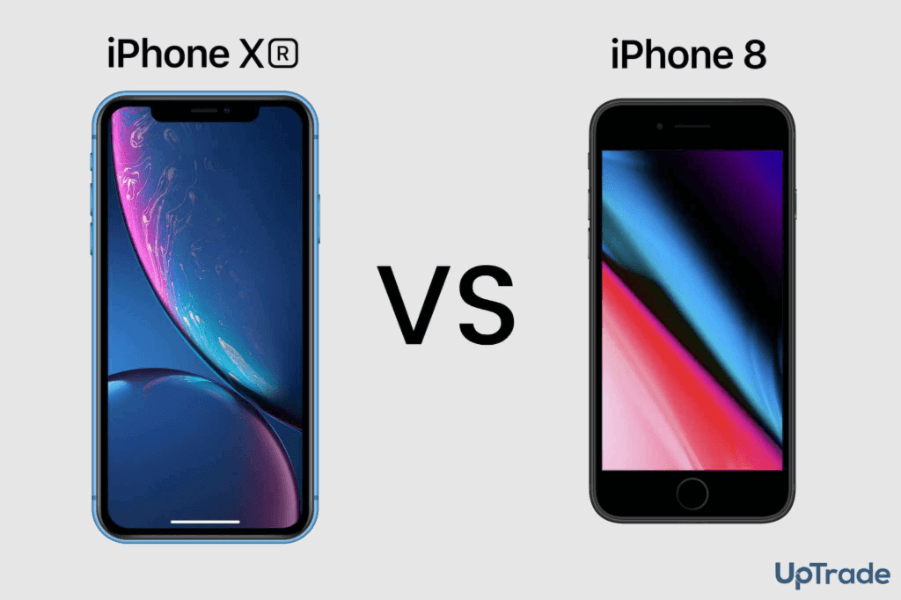 Getting the latest and greatest smartphone these days can run a heavy price tag. With Apple's recent release of the iPhone 11 and its even more expensive siblings, the 11 Pro & 11 Pro Max, they are setting the bar higher than ever before. What if you don't want to trade an arm and a leg for the newest upgrade? Some say you can't compare apples to oranges, but the previous generation iPhones aren't as bad as you may think. We will be taking a look at how the iPhone 8 can stand its ground against the critically acclaimed iPhone XR.
Specs
This table highlights the difference in specification between the iPhone 8 and iPhone XR
Release date

September 2017

October 2018

Screen size

4.7"

6.1"

Height & width

5.45" x 2.65"

5.9" x 3"

depth

.29"

.33"

weight

5.22 oz

6.84 oz

CPU

A11 Bionic chip with

Neural Engine

A12 Bionic Chip with 2nd generation Neural Engine

Display type

LCD with Retina HD display

LCD with Liquid Retina HD display

Pixel density

1334-by-750-pixel resolution at 326 ppi

1792 x 828 pixel resolution at 326ppi

Contrast & color

1400:1 contrast ratio, no HDR display

1400:1 contrast ratio, no HDR display

Front-facing camera

FaceTime camera & 7MP photos

Portrait lighting & 7MP w/ FaceID

Front-facing video

1080p HD video recording at 30 fps

1080p HD video, 30fps or 60fps

Back-facing camera

Single 12MP Wide

Single 12MP Wide

Back-facing video

4K video recording at 24 fps, 30 fps, or 60 fps, Digital zoom up to 5x

1080p HD video, 30 or 60 fps, extended dynamic range for video up to 30 fps; 3x digital zoom

Portrait lighting (front & back)

N/A

Natural, studio, contour

Photo HDR (front & back)

Auto HDR

Smart HDR

Audio playback

Stereo

Wider stereo

Video playback

Supports Dolby Vision and HDR10 content

Supports Dolby Vision & HDR10 content

Battery power

1821mAh

2942mAh

Video playback (battery)

Up to 13 hrs

Up to 16 hrs

Audio playback (battery)

Up to 40 hrs

Up to 65 hrs

Internal storage

64GB or 128GB

64GB or 128GB

Touch

3D Touch

Haptic Touch

SIM

Nano SIM

Dual SIM (nano SIM & eSIM)

Operating system at release

iOS11

iOS 12

Body

Glass & aluminum

Glass & aluminum

finish

Silver, Space Gray, and Gold

Red, yellow, white, coral, black, blue

Price, at time of release

$699+

$749+
*Best Buy
**UpTrade
Overview
Apple's iPhone 8 was released about a year before the iPhone XR hit the market late 2018. At the time of release, the iPhone 8 was priced at $699+ and was available in 64GB and 128GB. A year later, the iPhone XR's MSRP was set at $749+, as well as, available in 64GB and 128GB. The reason for the increased price for the XR model is due to the more advanced technology and design. This was the first iPhone to rock an edge-to-edge display and had many previous iPhones beat in this category. Although it may seem like the iPhone XR is a unanimous winner, the iPhone 8 can speak for itself.
Body
The iPhone XR is a bit bigger in size when compared to the iPhone 8. The XR model is 0.45" taller, 0.35" wider, and 0.4" deeper than the iPhone 8. The XR is also slightly heavier, clocking in around 6.84 oz compared to the 8's 5.22 oz. Thanks to the iPhone XR's edge-to-edge display, it allows for more screen to be on the phone itself. The XR has about 1.4" more of display than the iPhone 8's classical structure of the rectangular display.
The structure of both of the phones follow the same path as they are encased by an aluminum band that wraps around the front and back glass panels. The color of the iPhone 8 comes in silver, space grey, and gold variants. Apple decided to up the variety of colors for their expressive XR model as they came out with blue, white, black, yellow, coral, and red models of the phone. These colors were able to be offered thanks to the aluminum casing which was much easier to colorize than stainless steel.
Display
Although the iPhone 8 and iPhone XR run similar LCD powered displays, they're a bit different. The iPhone 8 is equipped with a classical retina HD display that is used on previous iPhone models in the past. The XR model uses a liquid retina display which is a more developed and advanced version of the classical retina display.
The use of an advanced display comes with more perks and features for the iPhone XR. Apple developed a new Haptic Touch technology that is an advancement of the iPhone 8's popular 3D Touch feature. The difference between the 3D Touch and Haptic Touch is simply the amount of force that is applied to the screen when accessing an app's secondary tasks. The Haptic Touch is accessed with a long press accompanied with an electrical "pop" feedback. Contrastly, the 3D touch is just a pressure sensitive action.
Apple's iPhone XR model has a slightly larger resolution when compared to the iPhone 8. The XR's resolution of 1792 x 828 is bigger than the 8's 1334-by-750-pixel resolution at 326 ppi. The discrepancy between the resolution is a minor factor when it comes to day-to-day operations. The iPhone 8 and XR are both equipped with the same 1,400:1 contrast ratio, which is due to the fact that the LCD powered displays can only allow for so much color to be emitted.
Camera
The iPhone 8 and iPhone XR are almost identical with camera technology but not completely. Both phones have a single 12MP wide camera on the back that allows for a 5x digital zoom, but the differences start to appear when observing the front facing camera. The XR uses a 7MP front camera for photos that comes with portrait lighting and FaceID while the iPhone 8 uses a similar 7MP, but without any of the technical extensions.
Usually, for iPhones to take advantage of portrait mode technology, they will need to be equipped with a dual camera system. Thanks to Apple's advanced bokeh and depth control technology, portrait mode is available with the iPhone XR and offers three lighting options (natural, studio, and contour). This feature is not available with the iPhone 8 model.
Both the iPhone 8 and iPhone XR are capable of 4K video recording at 24 fps, 30 fps, or 60 fps and offer a 3x digital zoom when recording. The XR offers a bit more in return with extended dynamic range for video up to 30 fps.
Performance
The iPhone XR packs more of a punch than the iPhone 8 with Apple's latest A12 Bionic chip with second-generation neural engine technology. This CPU allows for more power throughout all of the phone's day-to-day operations compared to the iPhone 8's A11 Bionic chip. The XR also contains a gigabyte more of RAM at 4GB compared to 3GB in the 8. This makes the iPhone XR slightly more powerful in most aspects of functionality.
Furthermore, the discrepancies in the battery of both of the devices are quite significant. The iPhone XR comes packed with a 2,942 mAh recharging battery vs a 1,821 mAh rechargeable battery in the iPhone 8. Apple claims that the iPhone XR lasts up to 1.5 hours longer than their iPhone 8 & 8 Plus counterparts. This allows for the XR to have 3 more extra hours of video playback and 25 extra hours of audio playback than the iPhone 8.
Conclusion
During this article, we dived deeper into the battle and talked about the differences between the old and new. We saw the differences in the physical and display design, CPU power, battery life, etc that each phone offered. The iPhone XR is obviously the more technologically advanced and developed phone compared to the iPhone 8, but not by a landslide. Apple's iPhone 8 is still able to stand its ground to the XR and is actually more convenient in some areas. It just depends on personal preference and how you interact with your phone on a day to day basis. The iPhone 8 is definitely the "bang for your buck" phone and a great budget rival to the iPhone XR.