iPhone XR vs Oneplus 6T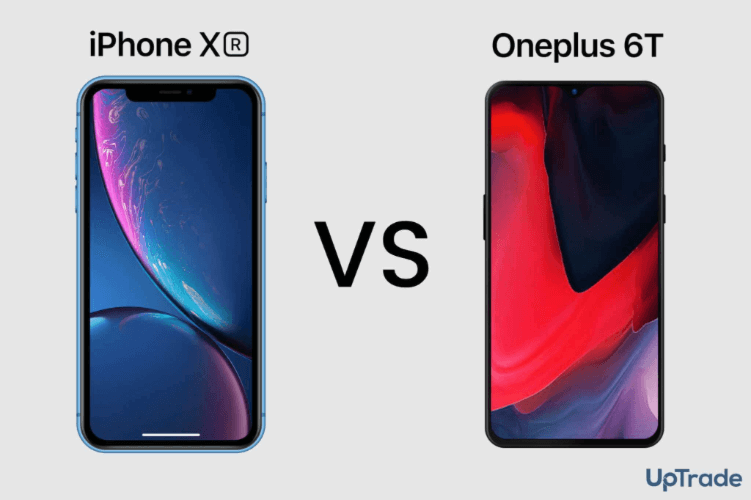 The iPhone XR marked the first budget phone from Apple that remained premium in both build and performance. This concept of a budget flagship is what propelled the company Oneplus to massive success among smartphone enthusiasts.
When considering to upgrade to a certified used phone from 2018, both The XR, and the Oneplus 6T are strong contenders due to their attractive pricing and brand reputation. One of the biggest factors of choosing one phone over the other will revolve around iOS vs Android in 2020 and features that one phone has over the other.
Specs
The table below highlights the differences between the iPhone XR and Oneplus 6T
| | | |
| --- | --- | --- |
| | iPhone XR | Oneplus 6T |
| Release date | October 2018 | October 2018 |
| Screen size | 6.1" | 6.4" |
| Height & width | 5.9" x 3." | 6.2" x 2.9" |
| Depth | .33" | .32" |
| Weight | 6.84 oz | 6.53 oz |
| CPU | A12 Bionic Chip with 2nd generation Neural Engine | Snapdragon 845 |
| RAM | 3GB | 6/8GB |
| Display type | LCD with Liquid Retina HD display | AMOLED |
| Pixel density | 1792 x 828 pixel resolution at 326ppi | 2340 X 1080 pixel resolution at 402ppi |
| Front-facing camera | 7MP | 16MP |
| Front-facing video | 1080p HD, 30fps or 60fps | 4K 60FPS |
| Back-facing camera | Single 12MP Wide | 16MP primary camera plus 20MP camera for depth perception |
| Back-facing video | 1080p HD video, 30 or 60 fps, extended dynamic range for video up to 30 fps; 3x digital zoom | 1080 FHD video recording at 60fps; digital zoom up to 10x |
| Photo HDR (front & back) | Smart HDR | Auto HDR Enabled |
| Audio playback | Stereo | Mono |
| Battery power | 2942mAh | 3700 mAh |
| Screen On Time | 8 Hours | 7 Hours |
| Internal storage | 64GB, 128GB, or 256GB | 128 GB, 256GB |
| SIM | Dual SIM (nano SIM & eSIM) | Dual Nano-SIM (Single on T-Mobile) |
| Operating system at release | iOS 12 | Android 9.0 Pie |
| Current Operating System | iOS 13 | Android 10 |
| Body | Glass & aluminum | Gorilla glass & Aluminium |
| Finish | Red, Yellow, White, Coral, Black, Blue | Mirror Black, Midnight Black, Thunder Purple |
| Splash and dust resistant | Rated IP67 | N/A |
| Price, at time of release | $749+ | $549+ |
| The current price, new | $599* | $349* |
| The current price, pre-owned | $449-499*, $387** | $312-349*, $270** |
*Amazon
**UpTrade
With these hardware differences, we should also acknowledge some operating system differences, as both offer features unique to their platform.
| | | |
| --- | --- | --- |
| | iOS | Android |
| Texting | iMessage | Various SMS apps |
| web browser | Safari/Chrome/Firefox etc | Chrome/Firefox/Opera … etc |
| Apps | App Store | Google Play Store + more |
| Layout | Defualt iOS only | Various Launchers |
| Voice Asisstant | Siri | Hey Google, Bixby, Cortana |
| PC Interaction | Requires iTunes | No Additional Software Required |
| Extras | Facetime, Airdrop, Garabgeband Mobile, iMovie etc | Homescreen Widgets, Split Screen Apps, Password on Boot |
With these differences listed lets take a closer look at the biggest differences in these devices, and how they will ultimate impact the experience of using each phone
Screen
The Oneplus 6T's screen is sharper, at a higher resolution, bigger with a slightly longer diagonal length, and an OLED, resulting in higher color contrast. Additionally, the notch on the 6T is significantly smaller than the XR's appearing in a small "tear drop" shape.
Technically speaking the Oneplus 6T is HD+, capable of 1080P playback where the iPhone XR is only slightly above 720P.
Don't be too discouraged, because Apple does its best to get around this by special scaling coded into iOS so images always scale appropriately for whatever Apple device you are using.
Over all though, the Oneplus 6T wins out on display quality due to display type, size, and resolution.
CPU and RAM
The Apple A12 Bionic is clocked at 2.49 GHz with two main cores, and four side cores.
The Snapdragon 845 is clocked at 2.8 GHz with four main cores and four side cores.
By the numbers, the winner would first seem to be the Snapdragon 845. However, Apple has consistently been able to write their software to be so optimized for their devices, that they get better performance than their Android counterparts.
To prove this, we can see their Geekbench benchmark scores.
The iPhone XR received a single core score of 1108 and multi-core score of 2575 from Geekbench, where the Oneplus 6T only had a single core score of 503 and multi-core score of 2256.
Similarly the iPhone XR may only have 3GB compared to the 6GB or 8GB on Oneplus 6T models, but Apple devices are known for the superior multitasking experience.
In terms of speed and power, the XR dominates the 6T, but keep in mind the 6T is not bad. For regular social media, calls, texts and emails, both phones should perform great.
Cameras
Again, the specs for these two phones are not similar, but their performance will be. It is true that the Oneplus 6T has an additional 20 MP camera, but unlike the iPhone X's telephoto lens, or iPhone 11's extra wide angle lens, the Oneplus 6T's additional camera is purely for realistic depth perception, and does not offer additional angles to shoot.
The XR uses it's single lens to take photos, and it's advanced processor and software to estimate an accurate representation of depth (a technique popularized by the Google Pixel 2 and 3).
The 6T may produce more accurate shots due to it's extra camera, and the selfie camera on the Oneplus 6T is fairly higher in megapixels, so video calling and selfies may be slightly superior to the XR.
Battery
Both phones were renowned for increase in battery life. The capacity of the 6T is about 800 mAh's bigger, but reported use time are fairly similar 7-8 hours of constant use between charges.
Water Resistance
The Oneplus 6T is not officially rated for any water resistance, where the XR is rated to be safe under one meter of water for up to 30 minutes. This knowledge may let XR users feel more confident about using their phone in the rain without fear of damaging their device.
Software
So far, these two phones have been fairly comparable. In cases where specs are dissimilar, performance still is. And the hardware of smartphones are only ever a means to an end: the user experience. Both phones are fast by modern standards, so the most important choice between these two phones will be deciding on the software family you prefer.
iOS has some significant advantages with iMessage, app priority on the App Store, and features between other Apple devices such as Facetime, Airdrop, and software suites like Garage Band and iMovie.
Android has similar apps, but there is no one official app for a singular purpose that rivals the way Apple provides software for their own hardware.
However, in exchange, Android users have variety and customization. They can switch up their SMS app, home-screen, web browser, video calling software, and can have increased or custom security measures like encrypting their device, and forcing users to enter a password to decrypt it to turn it on. They can develop their own applications for free and distribute it by an installer from person to person where as iPhones can only install new software via the App Store.
These differences lead to the final point:
Price
This "budget" iPhone was released at $749, which is not exactly cheap, and was $200 more expensive than the Oneplus 6T which released at $549.
The used market is pricing the XR at around $450 on average, and a Oneplus 6T can be picked up for as low as $270.
With Apple devices, you are paying not only for the hardware, but the iOS experience and inclusion in the Apple ecosystem. The extra software perks and usability are what you are really paying for in this case.
Conclusion
With similar performance and features, both of these devices are great deals if you are looking to upgrade. If you want to get into, or continue being part of Apple's customer experience, with access to robust and perfectly compatible software suites to compliment your phone, the XR is a great choice. But if you are not impressed with Apple's services that are included as part of the iPhone package, the attractive price of $270 can get you one of the best phones from 2018 while still retaining core smartphone functionality that we expect from modern phones.